0
Thanks for saving trees! Your purchase:
Your shopping cart is currently empty.
| | |
| --- | --- |
| Subtotal | €0,00 |
| Shipping Rate | including VAT, excl. Shipping Rate |
| Total | €0,00 |
Offer for our cities: irrigation bags to support new plants / young trees
Siegen, Göttingen, Aachen, Freiburg and Münster have one thing in common? What do you think connects these cities in Germany? We tell you. They are the 5 greenest cities in Germany. And what does that have to do with tree baths? We are happy to share that with you too.

Your advantages as a city and municipality with baumbad at a glance:
• Direct customer service by phone, email and chat.
• Guaranteed low price for cities and municipalities.
• individual, customized quantity offers.
• As a city or municipality, you pay on account.
• Resource-saving, for less water consumption with a higher degree of efficiency
• Time-saving, quick and easy to attach and fill

• You can plan which tree gets how much water and at what distance

• Theft protection possible with a lock or logo print

• The city arms can be printed on the tree bag
• Reusable, high quality certified PVC material.
• Ideal for young trees and new plantings of up to 30 centimeters and, in combination with 2 or more bags, also suitable for larger sizes.
• Thanks to a 75 liter capacity, long-term watering of 6-9 hours is possible.

We convince with our offers:
• From an order quantity of 25 pieces you will receive improved conditions

Get in contact
Your non-binding offer

Simple, sustainable and practical
the Baumbad watering bag

Different volumes
With our bag sizes 75L and 100L, we offer a wide variety and can respond individually to your needs.


Quality material
Our tree baths are made of reusable, high quality & certified PVC material.

antitheft
By attaching a lock, the tree bags can be protected from theft at any time.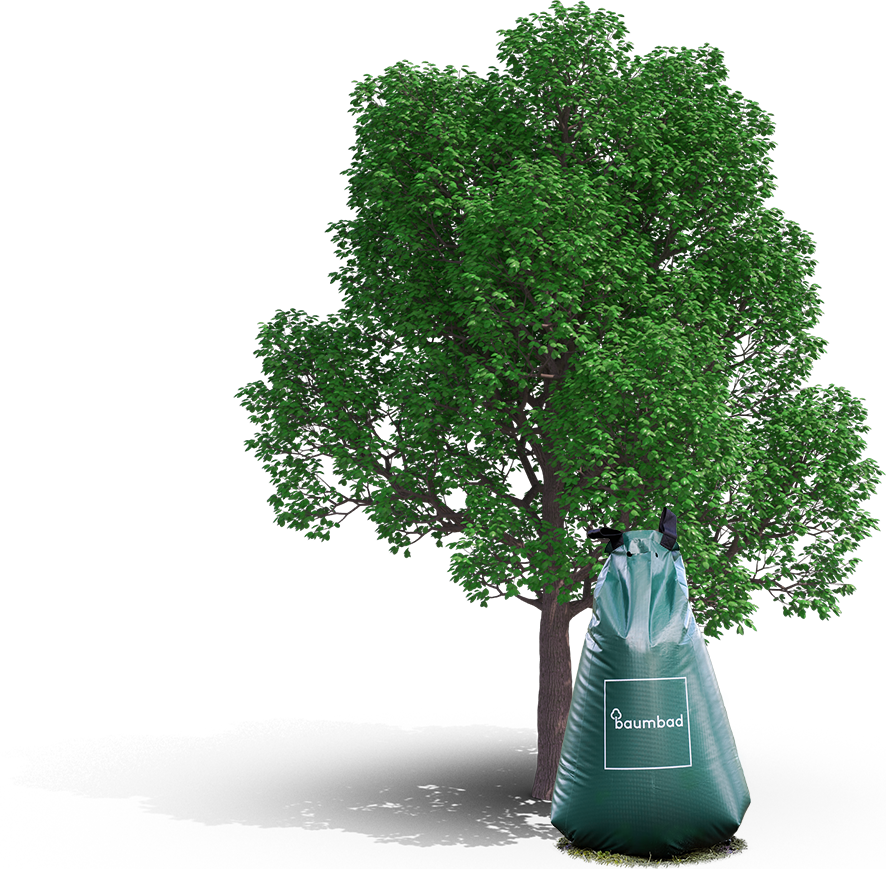 Individual printing
Personalize the tree bags with your city coat of arms, company logo or use them as advertising space.

Individual tree thicknesses
Multiply the watering volume by connecting several tree baths.

Long term irrigation
Trees can be watered quickly and efficiently for up to 9 hours with just one tree bag filling of 75 liters. Both 100 liter bags even up to 12 hours.
What the Baumbad heroes say
We love our tree rescuers
See more advantages

Short lead times
Fast delivery from Germany guaranteed

Money back
If you are not satisfied you will get your money back
That's interesting too
Great offers